Ajay Devgn thrashed at midnight in Delhi! Learn what's the truth of viral video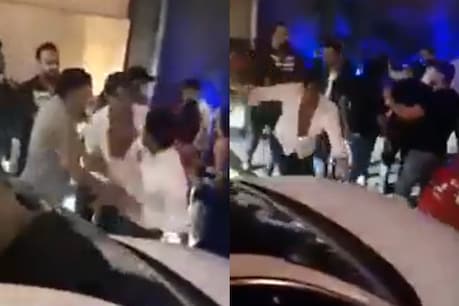 It is claimed that the man seen in the viral video is Bollywood actor Ajay Devgn. (photo credit: twitter)
The video of the fight in Delhi's Aerocity area is rapidly going viral on social media. The man who is being beaten up in the video is none other than Bollywood superstar Ajay Devgn (Ajay Devgn).
New Delhi. A video of the fighting between two groups in the national capital at midnight is rapidly going viral on social media. It is claimed that the person who is being beaten in the video is none other than Bollywood superstar Ajay Devgn (Ajay Devgn).
Social media users say that Ajay Devgn was intoxicated when the incident took place. His car got a quarrel over parking, after which people started beating him together. Although the video is not as clear and does not see anyone's face clearly, social media users are claiming to have beaten the actor in the video due to similar personality.
Not really sure if this is #ajaydevgan or not but #Kisanektamorcha agitation seems to be spreading up. Social media floating with this video that drunk @ajaydevgn got beaten up?? #RakeshTikait pic.twitter.com/Fv8j0kG5fv

— lalit kumar (@lalitkumartweet) March 28, 2021
A user has shared a video of the entire incident in which a man wearing a white shirt can be seen beating. Posting the video, the man wrote: "I don't know if it's Ajay Devgn or not. But, people are showing anger about the farmers ' movement. The video is spreading on social media, claiming that it is Ajay Devgn," he said.
However, the video shows that the video is from an aerocity near indira gandhi international airport in the national capital, where a fight between two groups over parking began in the past night. In view of this, the battle escalated so much that many people joined in and grabbed a man and started beating him. The man seen in the video of the fight is seen to be in a very intoxicated condition. His face is not clearly visible, but our investigation revealed that the incident had nothing to do with Ajay Devgn. The main accused has been arrested by the police after the incident.